Building Information Modeling or BIM is a process of designing, building, and operating a building in a virtual environment so that a precise building construction and operation procedure is maintained. 
Contractors oversee and carry out all of the work required to bring a construction project to successful completion. Designers, engineers, and contractors collaborate using BIM technology in construction so that the project is able to be finished on time and within budget. 
Contractors can examine budgets, employ subcontractors, and acquire resources with the help of a BIM execution plan for contractors. They are also responsible for quality control, site safety, and cost control, by adhering to BIM standards. 
Let us look at the purpose and importance of BIM in construction for contractors at each phase of building design, and construction.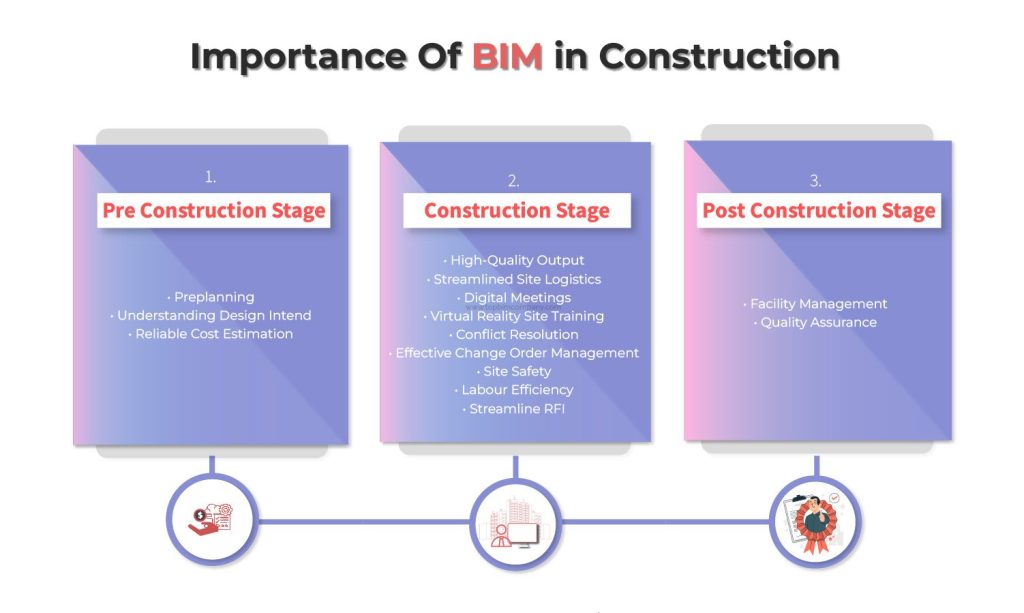 Preplanning: The pressure for building contractors to complete the project on time and within budget is real. BIM is there to save contractors from this trouble. The advantages of BIM for contractors help in the best pre planning of a building construction project. 
Understanding Design Intend : 

Adoption of BIM for general contractors helps the contractors to understand the design intent and concept with the help of 3D visualization renders and videos. They can also analyze the design with the help of 3D BIM models, plans, sections, elevations, and shop drawings. Understanding the design intent can help the contractor to materialize the vision of the architect on site without any problems and confusion.

 
Reliable Cost Estimation: 

It is the requirement of the building contractor to provide a precise cost estimate, Quantity Take Off (QTO), and Bill Of Quantities (BOQ). The BIM technology saves contractor from the trouble of manually calculating it. The benefits of BIM modeling lie in the fact that BIM software like Autodesk Revit provides these data automatically from the 3D BIM model. 5D BIM dimension of BIM is used for cost estimation, and Quantity Take Off.

 
Improve the efficiency of your project by consulting with our BIM experts
High-Quality Output:

A building contractor doesn't have to worry if the final constructed building will look like the one designed virtually. Because project management with BIM process ensures that the final build quality is not compromised.

 
Streamlined Site Logistics:

It is important for a general contractor to make a schedule for the construction process, and have efficient site coordination. 4D BIM is the dimension of BIM technology that will help with site logistics and scheduling. 4D BIM also helps to create Site Construction Simulation videos. This helps contractors a great deal with streamlining and smooth site logistics, by managing materials, and labor on site.

 
Digital Meetings:

Contractors can avoid on site meetings with architects and engineers, and do digital meetings with them. This can save the time and effort of architects and engineers, and also they can do frequent meetings to monitor the work on site.

 
Virtual Reality Site Training:

Building contractors can use Virtual Reality (VR) technology for training employees in complex construction techniques. This is a cost effective, and flexible way of training employees on site.

 
Conflict Resolution:

The benefits of BIM in construction management help contractors in clash detection between architectural, structural, and MEP BIM components. They can ask the architects and engineers to resolve the clashes and coordinate the services, to make the construction conflict free. By visualizing diverse project aspects through a practical model, BIM enables contractors to discover issues and take corrective action. BIM coordination is an important tool that helps contractors in construction.

 
Effective Change Order Management :

In any construction project, unforeseen design changes may occur. Traditionally, managing change orders used to be a hectic task. But with BIM application in construction, contractors can easily manage change orders. BIM construction helps in reviewing material quantity variations, and budget variations.

 
Site Safety:

The safety at the site can be assured with the help of BIM technology. BIM can help reduce construction-related safety issues. Using BIM for construction aids in early decision making, on site safety monitoring, and it also helps in the simulation of construction hazards.

 
Labour Efficiency:

BIM design helps you optimize labor efficiency throughout the construction life cycle. BIM makes it possible for every member of the team to have a ready strategy. The Project Contractors and Site Managers now have an easier to use tool to supervise daily tasks. They can skip trying to understand 2D drawings. Subcontractors are given 3D, time-sensitive models and a list of tasks. It gives them more control over labor hours.

 
Streamline RFI:

If information is required from other project members, a formal Request For Information (RFI) is issued. The most important responsibility of a contractor lies in the management of RFIs. RFIs should be constantly monitored by contractors to make sure that they are answered on time, and without any confusion. BIM 360 Build is used as a cloud-based solution for RFI management.

 
Facility Management:

As part of the facility management process, facility managers and contractors make use of the data provided by BIM to plan for new installations, modifications, or other adjustments. Digital Twin is an important new technology in Facility Management, which contractors can make use of. A digital twin is a digital replica of a building, which is updated with real time data.

 
Quality Assurance:

The general contractor should be responsible to confirm the quality of the building they have made. With the help of BIM, the quality of the building can be assured, more quickly, and easily.

 
BIM helps contractors to work with highly detailed and precise 3D BIM models made with the required Level of Development (LOD). This helps to decrease risks, keep costs under control, and streamline the process before, during, and after construction has been completed. 
BIM with its cloud enabled Common Data Environment (CDE), and the ability for collaboration and design coordination, enables contractors to run the construction process smoothly. The scope of BIM in construction industry helps to increase productivity, control cost, and increase the Return on Investment (ROI) by tracking construction progress and streamlining the construction process. 
Along with the contractor, BIM for owners helps the clients to get a high quality output with high precision and efficiency. The future of BIM in construction for contractors lies in winning bids, and completing the building project on time and within budget. BIM for contractors is an integral part of the Architecture, Engineering, and Construction industry. 
Top BIM Company is one of the top BIM companies in USA, providing services in Texas and Florida. For Quality Assured BIM modeling services and construction management by our certified BIM professionals and contractors, please contact us at 240 899 7711 or [email protected] 
Please connect with our experts and to discuss your project and get a free estimation for your AEC project.