BIM adoption naturally means BIM collaboration, as it is the main motive for the design build teams implementing BIM. It helps project team members including architects, structural engineers, MEP engineers, and contractors to collaborate in a Common Data Environment (CDE). Design build companies have recently come to the realization that BIM collaboration is the key to their success, and as a result, they are rapidly adopting BIM.  
BIM is an environment in which everyone works together toward the accomplishment of common goals with the help of intelligent modeling, accepting the consequences of their actions, either in the form of additional risks in the event of failure or additional rewards in the event of success. 
BIM modeling are carried out by software such as Autodesk Revit, and BIM coordination with Navisworks. The cloud based design and collaboration software known as Autodesk BIM Collaborate and Autodesk BIM Collaborate Pro (formerly BIM 360 Design Collaboration) brings together AEC teams on a Single Source of Truth (SSOT). 
The intended final result of the building project can be communicated to all stakeholders in a manner that is crystal clear, concise, and completely understandable with the use of a 3D BIM model. This makes it easier for the entire project team to comprehend the requirements and understand what they are working toward. 
The BEP (BIM Execution Plan) is what defines what "BIM" means for the project, and it is something that should be agreed upon right from the start. It details the standards that are going to be accepted, the outputs that are required, when these should be submitted and in what format, and any supporting information that may be required. 
To ensure that design teams, suppliers, manufacturers, and any other stakeholders have access to all of the important information throughout the duration of the project, the BEP serves as a living document that is routinely reviewed and continues to undergo development. This fosters collaboration between all involved parties. 
Benefits of BIM Collaboration
The construction industry has always struggled to adopt collaboration as a working method. Thanks to technology, now we have Building Information Modeling. Now we can increase the productivity of design build process by almost 40% -60% with the help of BIM collaboration. Let us look at the benefits of BIM collaboration.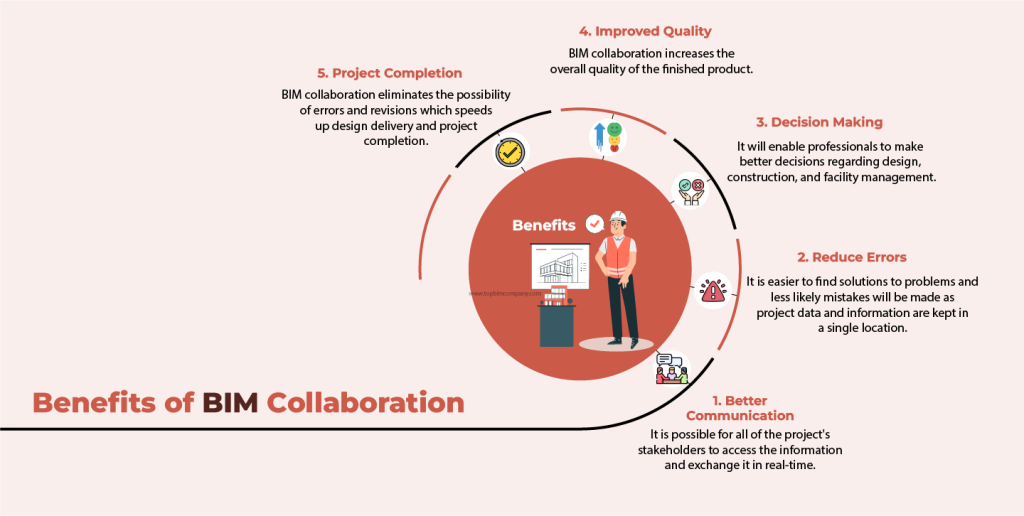 Better Communication:

Because all of the models are stored in a single cloud based location, it is possible for all of the project's stakeholders to access the information and exchange it in real time, which helps to improve communication throughout the whole project.

 

Reduce Errors:

It is easier to find solutions to problems and less likely that mistakes will be made when all of the data and information connected to the project is kept in a single, safe location.

 

Better Decision Making:

With the assistance of a smooth BIM collaboration process, one is able to make sound decisions regarding the design, the construction process, and facility management.

 

Sustainability:

An increase in the level of collaboration between structural engineers, MEP engineers, and architects can have a significant positive impact on the building's ability to be environmentally sustainable.

 

Improved Quality:

The enhanced collaboration that is made possible by BIM leads to an increase in the overall quality of the finished product.

 

Improved Speed of Delivery:

The speed with which designs may be delivered and the construction process can be increased as to the fact that BIM collaboration eliminates the possibility of errors and revisions.

 
Our experienced BIM engineers facilitate timely completion of projects
The BIM collaboration and BIM coordination procedure are carried out with the use of a 3D BIM model. When it comes to sharing models and data, utilizing an open file format is quite vital. The BIM Collaboration Format, or BCF, is a tool that can assist with this. The goal of the BCF is to make it easier for professionals working together on a single BIM model to communicate with one another and share information with one another. 
Since IFC is an open file format, anyone with access to the file can add their own notes, comments, reports, and images to the BIM model. During the planning and building stages, everything is controlled using a BCF program that tracks when and by whom notes and comments were added. 
The utilization of cloud apps like the ABB Switch Range Configurator and Rexel Wholesale Connector, along with the updated data flow provided by the connectivity of IoT sensor networks and BIM models, streamlines the designing process. Additionally, prefabrication, logistics, facilities management, and health and safety management are all impacted and made easier by IoT technology.
The Future of BIM Collaboration
In the field of architecture, engineering, and construction (AEC), there is now a trend toward using BIM as a collaboration tool for design, building, and operation, which is going to take new directions in the near future. It is becoming increasingly obvious that contractors who are actively involved with BIM will emerge as notable leaders on the majority of the industry's most important projects. 
 In the future, collaborative Building Information Modeling could be employed on a bigger scale to manage smart cities. The development of digital twins has made it possible to manage buildings and smart cities. 
BIM collaboration helps the design, construction, and facility management process of a building smooth and streamlined. When architects, builders, and facility managers work together, the entire building process is improved. This is perhaps the greatest new opportunity for AEC professionals that BIM has created. BIM is a powerful tool that benefits both contractors and building owners by helping them save money, complete their projects on schedule, and keep track of the building's design and construction phases. 
Top BIM Company is one of the top BIM automation company in USA, providing services in Texas and Florida. For quality assured BIM modeling, 3D laser scanning, and Scan to BIM services, please contact us at 240 899 7711 or [email protected]
Please connect with our experts and to discuss your project and get a free estimation for your AEC project.