Innovative BIM Trends Shaping AEC Industry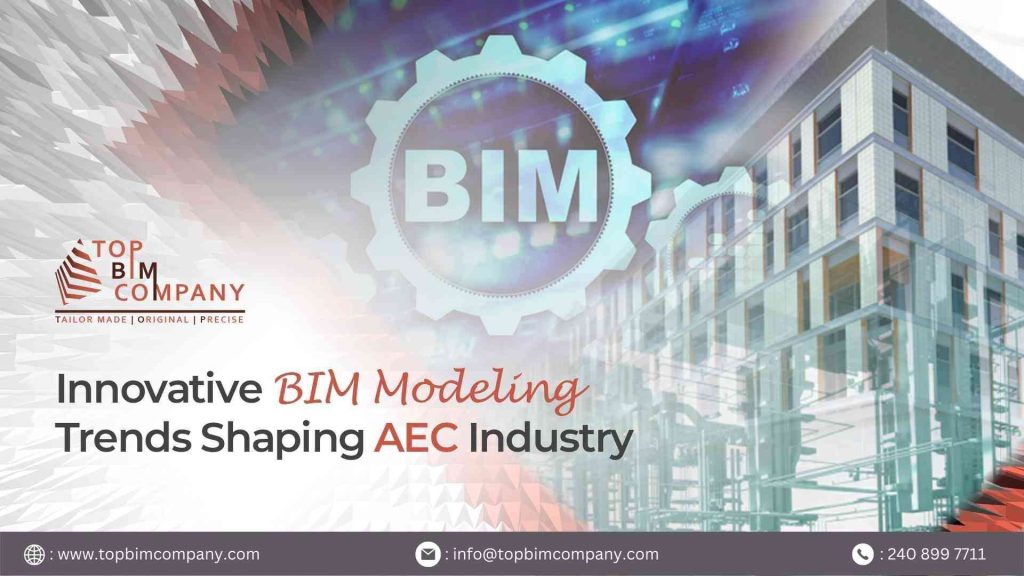 Building Information Modeling Market Global Growth
There is no denying that the construction industry is evolving and changing as each year goes by. Thanks to the contribution of BIM modeling technology. According to an AIA report 2016, around 96% of large firms, 72% of mid-sized organizations, and 28% of small organizations have used BIM software in some capacity. The industry has moved toward a more open, accountable, and effective process system. Thanks to BIM integration. Aspects of construction such as 3D modeling, facility management, collaboration, coordination, cost estimation, procurement, and many more have been included into technology due to its broad nature. 
Starting from CAM software to virtual design and construction (VDC) or in the form of a BIM service package, BIM Modeling has undergone constant development since its conception. Construction is becoming increasingly technologically sophisticated and efficient as a result of the technology's unending expansion to include new tools in its field. The AEC industry is embracing it more frequently each year, changing several facets of the sector.
BIM Modeling Trends Shaping AEC Industry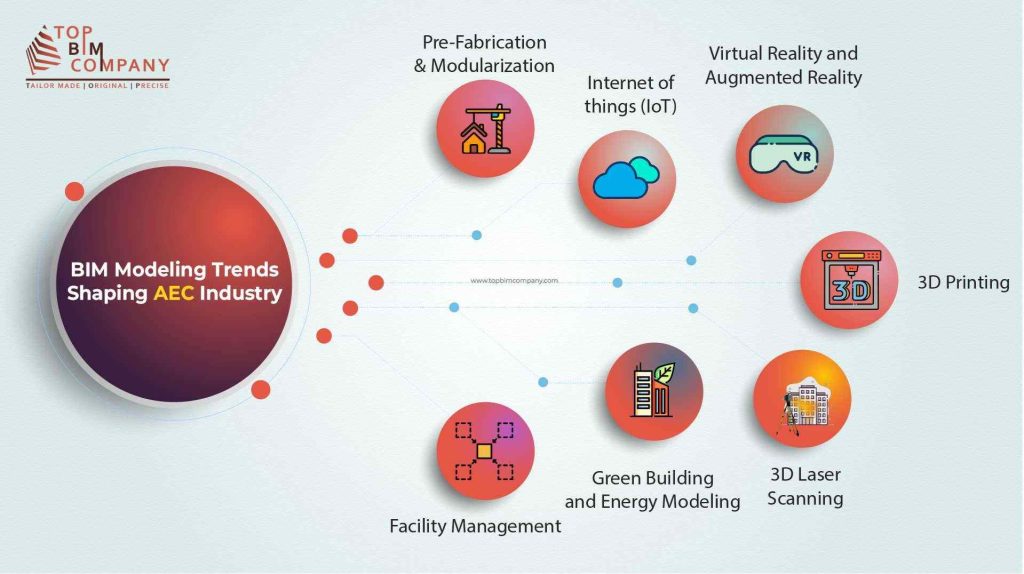 Pre-fabrication & Modularization
Pre-fabrication and modular buildings have gained popularity in recent years as the construction industry strives for safety, productivity, quality, and cost-efficiency in the face of obstacles related to a skilled labor shortage and other uncertainties. Prefabrication is the process of producing construction components off-site that are then assembled on-site after being modified for a given project. A factory-fitted toilet and façade component are examples of standardized construction modules that are prefabricated in modular construction. Improvements in efficiency and quality are the main advantages that are encouraging the use of this BIM modeling technology. Off-site module manufacture and assembly lower material waste and creates a secure, environmentally friendly building site. Reducing the reliance on the weather and the unfavorable conditions at the construction site increases the dependability of the schedule and benefits the construction budget. 
Buildings now cover a vast biological community, and IOT and BIM have revolutionized every aspect of a building, from design to maintenance. The term "internet of things" describes a method where a machine, object, or component can install a sensor to track its operational status, degree of performance, or physical condition. Typically, telematics is used when quoting the phrase in the construction sector. IoT applications in this industry enables tracking of machine hours, fuel consumption, GPS tracking, or idle time at a basic level. Additionally, its sophisticated application supports the monitoring of numerous operating data, including engine load, fuel temperature, pressure, etc. Real-time data may be retrieved from IoT devices, and their integration with BIM modeling creates a vast application network that can improve operational efficiency. 
The utilization of cloud apps like the ABB Switch Range Configurator and Rexel Wholesale Connector, along with the updated data flow provided by the connectivity of IoT sensor networks and BIM models, streamlines the designing process. Additionally, prefabrication, logistics, facilities management, and health and safety management are all impacted and made easier by IoT technology.
Virtual Reality and Augmented Reality
AR and VR are popular in the construction business due to their potential advantages, which are enhancing the effectiveness of the entire construction process. Computer-generated pictures are superimposed in the physical or real-world environment in augmented reality. AR in construction uses mobile devices and 3D models to place the suggested 3D model or design in the actual surroundings. In contrast, virtual reality (VR) creates a simulation of the real environment. These cutting-edge technologies aid in the design and visualization of a Revit model, accurate presentation of BIM data for space planning, design analysis for clash detection between MEP parts or any other element, a smooth collaboration between design and construction teams to reduce frequent change orders, and even help prefabrication of building components. 
The method of 3D printing, also known as additive manufacturing, involves progressive material layering under computer control to produce 3D forms. A 3D digital model or prototype of construction components is produced using 3D printers in the construction industry. Complex components can be built using 3D printing, which also increases precision, decreases waste, and accelerates the entire process. Compared to traditional production, 3D printed buildings are more cost-effective due to the reduced material utilization. An optimized design is created using exact geometrical data to reduce material usage and waste. The main process of the project, from design to production, might be made simpler using 3D printing. This would also lower labor costs, make it easier to build in hard and dangerous environments, and help the development of a sustainable society. 
3D laser scanning, also known as Scan to BIM, is frequently utilized in the construction sector for a variety of renovation, retrofit, or conversion projects. Scan to BIM uses laser scanners to collect scanned data from the actual site in the form of a point cloud, which is then transformed into a 3D model. Additionally, laser scanners are used to create an as-built 3D model from an existing building and to review the as-built model. Laser scanners are also used to extract precise and accurate construction information and data from as-built buildings, monitor the progress of a project to add any missing element of the model, and more. The construction team gains significant advantages from the usage of laser scanners, including decrease in human error. Thanks to decreased reliance on manual labor and precision in data capture, ongoing document review, cost savings, material cost estimation, etc. 
Green Building and Energy Modeling
Building Energy Modeling (BEM), an integrated approach to building design and energy modeling, aids in a project's compliance with energy standards and certifications like LEED and BREAM. Integration of BIM and BEM tools aids in energy analysis from the project's conceptual stage onward. BEM also helps at the operational stage of a building. This strategy encourages the evaluation of a building's energy efficiency whenever any design changes are made. An environmentally harmful effect a building has on the environment is reduced at every level by using green architecture or sustainable design.  
The facility management sector is moving away from conventional facility management practices and toward BIM-enabled facility management. For facility management of a building during the operational phase, BIM provides organized information. A consistent information flow and improved operating procedures are brought about by the integration of the facility management system with BIM. BIM provides data for asset inventories and registries, building system analysis, space management applications, regulatory compliance management, and environmental analysis, all of which support facility management. The owners are constantly expanding this practice of incorporating BIM data for facility management.
BIM Insights & Growth Forecast
The AEC business, estimated to be worth over US$10 trillion, is expanding annually, and BIM modeling has been a driving force behind this development. Adoption and implementation of Building Information modelling is a revolution in the AEC (Architecture, Engineering and Construction) Industry. This process streamlines the workflow of information throughout the stakeholders which enables efficiency, it facilitate AEC professionals with BIM model audits, 4D BIM construction simulation, BIM 5D cost estimation, and point cloud to BIM.