3D Scanning Of Buildings For Architecture, Engineering, & Construction (AEC)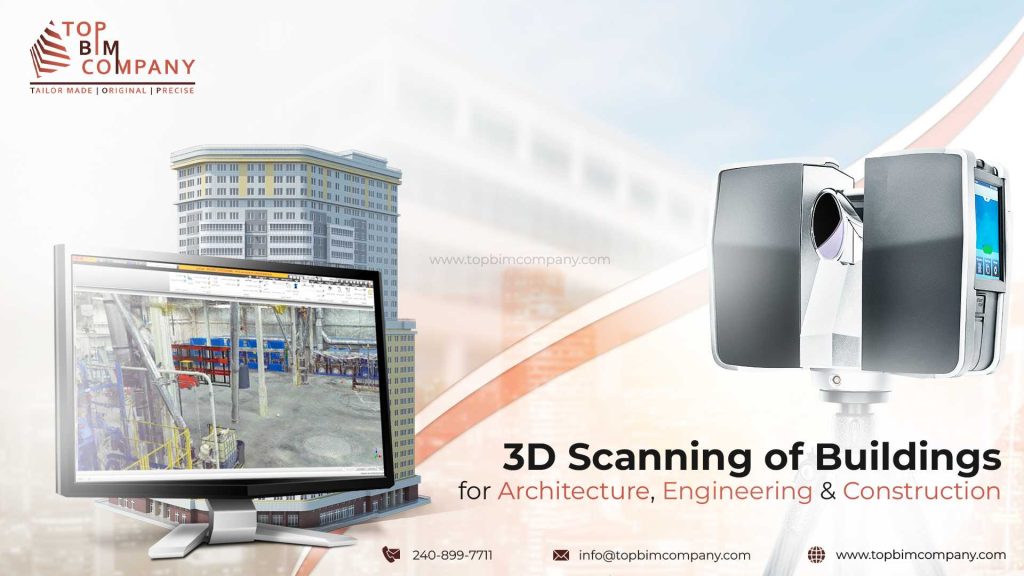 Reailty Capture of Building using 3D Laser Scanning
Drones, UAVs, terrestrial scanners, and digital Photogrammetry are just a few of the constantly developing 3D scanning technologies that enable mapping virtually of every area of a construction site with previous levels of detail. This is usually concentrated on remodeling, retrofitting, or extension projects during the design phase at such time, it is necessary to upgrade or replace the old building's shaky paperwork and designs with a precise as-built record. Scanning technology using 3D scanner for building can be used for many kinds of projects, including new building, during the construction process. This provides an extremely accurate and up-to-date record of site progress, with benefits for cost, build quality, and delivery.
The advantages of laser scanning in construction
Rework can add up to 15% of the cost of a building project on an average. However, routine 3D scanning can identify any possible problems before they result in change orders, lowering risk for the principal contractor.
By scanning at predetermined intervals, it is able to record important milestones like hand-offs between trades and compare completed work to models and drawings that reflect the original design for quality assurance.
A thorough 3D laser scanning survey essentially creates a copy of the structure at the time of the scan. It could mean that subcontractors have complied with the deliverables of the contract. It maintains the integrity of the contractors and significantly lowers modification orders, which usually result from projects that are poorly documented without laser scanning. Additionally, it has been demonstrated that sharing information transparently can lessen conflict on projects in the construction sector.
In certain circumstances, 3D laser scans can extract additional data on a particular construction feature to enable corrective action to be performed. In order to reduce waste, a precise model of a concrete slab, for instance, can identify sections that are not flat and the software can calculate the volume of material needed to fix the level.
To confirm that all components are installed in the proper positions, millimeter-accurate scan data on plumbing, HVAC, structural steel, rebar in concrete, etc. that is tagged with actual installation dates may be compared to the design. In the event that mistakes are found, it might be possible to modify the design and create new components rather than having to perform corrective work on-site.
Clients and building owners can gain from having a record of what is located beneath the floor slabs, above the ceilings, and behind the walls. They might utilize it for building management and upkeep after handover or as the foundation for later refurbishment work.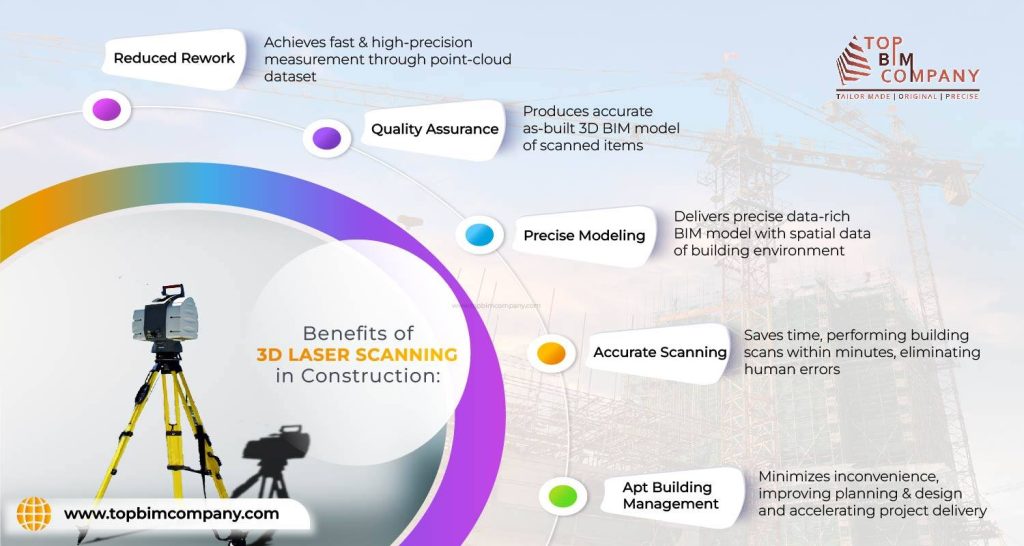 Time, frequency, and accuracy
Although general contractors frequently hire specialized surveying companies to handle their laser scanning needs, many choose to manage task themselves by renting or buying their own laser scanner and software.

 

The scale of the project, the type of data that must be defined, and the speed and regularity of survey completion will all affect the choice of the best tools for the work.

 

The most accurate

3D scanner for buildings

can capture very thick point clouds on the ground. These digital images of the space in three dimensions were created using a vast number of data points, such as X, Y, and Z coordinates, color values, and reflectance values. BIM software may import such point cloud data.

 

Unmanned aerial systems (drones) can be used to capture point clouds by stitching together high-resolution photos of the topography, building exteriors, and difficult-to-reach locations on roofs.

 

Projects that need to quickly and frequently collect high-quality data to update as-built information might greatly benefit from a mobile mapping system like the NavVis M6 cart.

 

The M6 can gather 100,000 to 150,000 square feet of data every day, as opposed to 25,000 square feet using a tripod scanner, and is up to 10 times faster than static scanning equipment. This is especially helpful when a surveyor only has a short window of opportunity to access a busy construction site.

 

The M6 also incorporates the newest 6D SLAM (Simultaneous Localization and Mapping) technology, which is particularly important in challenging areas like construction sites and is designed to reliably gather data on uneven surfaces.

 
3D scanning for intelligent building design & Construction
When it comes to Scan to BIM, capturing 3D as a point cloud is only half the battle. There are various techniques project teams can use to export and analyze the images in software.
Some project review tools can input point clouds of actual "built-conditions" and overlay them with a common coordinate system to run clash-detentions against the design to identify problems. Regular updates can be made to the federated BIM model, which typically comprises the architectural, structure, and MEP.
Point cloud data cannot yet be instantly or totally automated into intelligent BIM components. A surveying company or other expert normally handles the largely laborious and specialized process.
Using algorithms that identify and transform the geometries of items like pipelines, structural steel, and walls into geometric BIM objects, software systems like Autodesk Revit may partially automate modeling.
The Indoor Viewer program from Navis offers a useful shortcut for individuals who don't want to invest time and effort in modeling. The web-based technology makes it simple to view and browse through incredibly realistic panoramic photographs of the project in the manner of Google Street View. You can use it to view, annotate, and measure a point cloud.
Transforms Construction Projects with 3D Laser Scans
Constantly evolving 3D scanning techniques, including drones, UAVs, terrestrial scanners and digital photogrammetry, make it possible to map almost every corner of a construction site at an unprecedented level of detail.
Construction teams all around the world are beginning to recognize the speed and accuracy advantages of laser scanning over conventional surveys, and the possibilities are nearly unlimited when the results are brought into BIM.