Common BIM Adoption Challenges In Building Construction Industry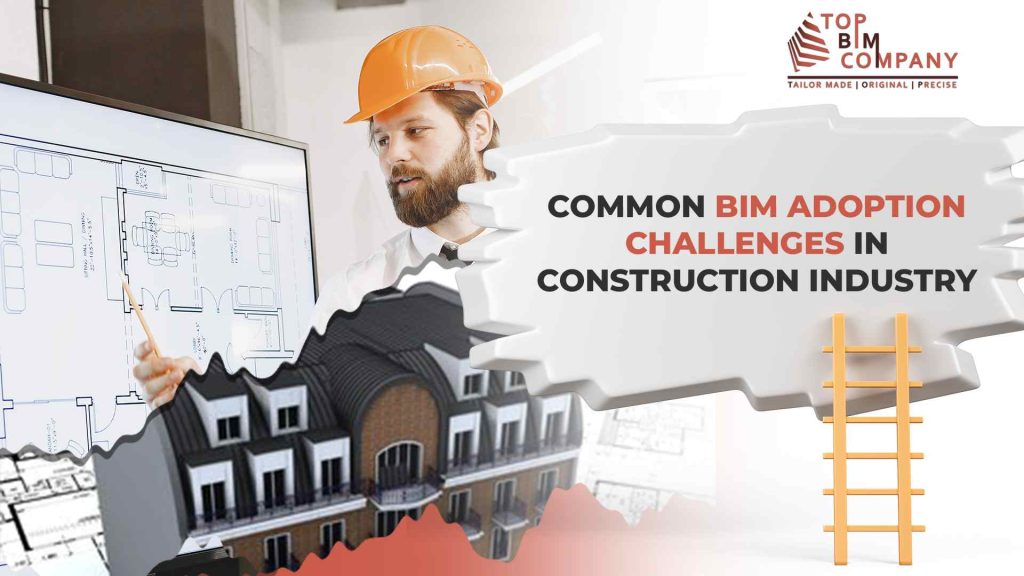 Impact of BIM Adoption on Planning Building Projects
Along with the development and adoption of cutting-edge technology, a paradigm change is taking place across a wide array of industries. Consequently, there is no exception in the construction sector. 
The way the construction business functions has changed significantly since BIM Technology was introduced and notably in the last few years. BIM adoption has become essential for large-scale public projects in many nations, including the US. 
BIM's influence leads to better resource utilization, as well as higher productivity and profitability. Although it faces some difficulties, the construction sector is catching up in its use of Building Information Modeling technology. 
Obstacles in the Way of BIM Adoption
Although BIM provides advantages over traditional CAD methods, adoption is slower as a result of many obstacles. These obstacles prevent BIM technology from being used to its full potential in the AEC sector.
Project Size and Scope:

The idea that BIM is only useful for large-scale projects with intricate architecture and designs is widely held. AEC companies believe that their operations are not adequately large to switch to BIM for AEC projects.

 

Expensive Training & Migration: 

Investment in personnel training and software is necessary for BIM deployment. AEC companies believe that focusing on

BIM adoption

instead of their current processes will have an impact on their normal work.

 

General Unwillingness and Resistance:

Change is resisted by people. They frequently find it difficult to leave their comfort zone because they believe that what is working for them shouldn't be changed. It would take more work for designers to acquire new technology, which would slow down the adoption of BIM.

 

Never-Ending CAD/BIM Debate: 

It is common for professionals in the AEC sector to compare CAD and BIM and conclude that the latter is not time-worthy. Professionals frequently believe they don't need to devote their time to BIM since 3D modeling can be done using their current CAD tools. 
It's critical to comprehend the factors that can hasten the adoption of BIM, even though there may be a number of additional difficulties and roadblocks.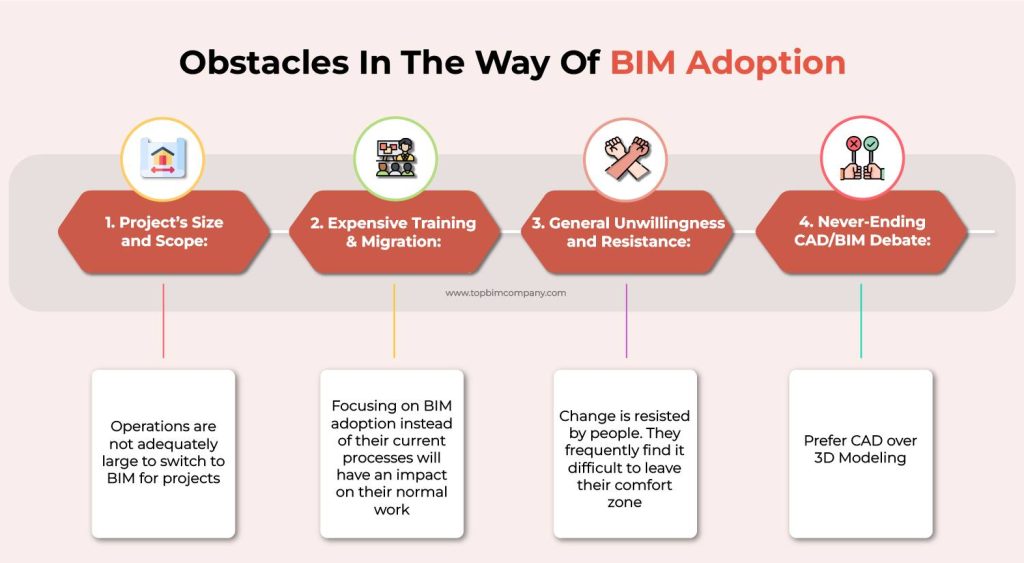 Critical Focus Areas for BIM Adoption Management
These three factors will aid in removing many obstacles and impediments to the adoption of BIM.
Investing in people is the first and most important step in going forward with the implementation of BIM. You must dispel their preconceptions about BIM and help them appreciate its advantages. 
By increasing confidence and interest in BIM, your team members will be more likely to embrace it. This will happen when BIM adoption is promoted within your organization or team. 
Tell them how BIM will make their daily work easier and better, increasing productivity. You might consider developing a training program for your staff to jump-start the adoption process once they are sufficiently motivated. 
Training sessions can be structured and managed depending on how adaptable the team is. Modern modeling techniques can be gradually learned and unlearned to improve individual awareness and exposure as well as team performance. Their skill sets will be enhanced, which will produce better outcomes over time.
You must not only invest in people, but have everyone on the same page with the adoption process. The workflow is drastically altered when you switch to new technologies. Your design team has to be well informed of the implications of any changes to the workflow BIM process. 
You might consider a revolutionary or evolutionary strategy for transitioning. The revolutionary method entails throwing out all you've been performing and replacing it with a brand-new procedure.  
The evolutionary process is primarily concerned with modifying the stages that are no longer necessary and safeguarding the parts that may be beneficial in the future. 
Both strategies have advantages and disadvantages. Before implementing a revolutionary or evolutionary transition strategy for process changes in accordance with your long-term vision, be sure to consult your team members.
You'll need to direct your attention to technology issues once you've settled on people and procedures. While considering the adoption of BIM, you might need to upgrade your current IT infrastructure and add new software suites and tools. 
It is advised at this point to even inform your clients of the long-term advantages of BIM. You can align a client's goals with BIM use cases to demonstrate how BIM adoption will ensure that their project has a competitive edge. 
By doing this, you can guarantee that your investment begins to pay off immediately rather than having to wait for clients to require BIM.
Errors in the application of BIM
Now that you are aware of what to accomplish, let's check out the major errors that can derail your desire to implement BIM. 
Here is a list of frequent errors that BIM modelers and managers do during the early phases of BIM adoption based on our extensive expertise in the area. 
Forgetting to upgrade the skill sets of your team members

 

Over-modeling

 

Over/underutilizing 3D content like 

Revit content creation

Excessive use of third-party 2D content like PDFs and images in the model

 

Forgetting to perform internal quality checks for improvement in architectural design

 

Lack of a BIM implementation plan

 

Hardware incompatibility

 
If you are aware of the errors, you can avoid blunders of BIM implementation. You can concentrate on the appropriate portions by taking precautions in these essential areas. Even though you may feel ready to begin your BIM adoption journey, if you aren't vigilant, a lot can still go wrong. 
How We Can Support Your Adoption of BIM?
We strongly believes that BIM technology has advantages over conventional building design methodologies. 
The BIM engineers take a consultative approach that supports the transition from conventional methods to BIM-based methods. They have successfully assisted businesses from a variety of industries and at all levels in their transition to BIM. 
Due to their first-hand knowledge of potential problems, they resolve bottlenecks even before they occur. Our BIM consultants streamline and maintain the quality standard during the adoption of BIM with the aid of standard quality practices, such as the 3-Levels of Quality Checks and Drawing Review Checklist. 
Our team of BIM modelers reduce potential communication gaps using industry-standard collaboration tools and techniques. To learn how BIM can help your forthcoming projects, get in touch with the BIM experts. We would be happy to work with you on your upcoming project.