Introduction To Building Information Modeling (BIM)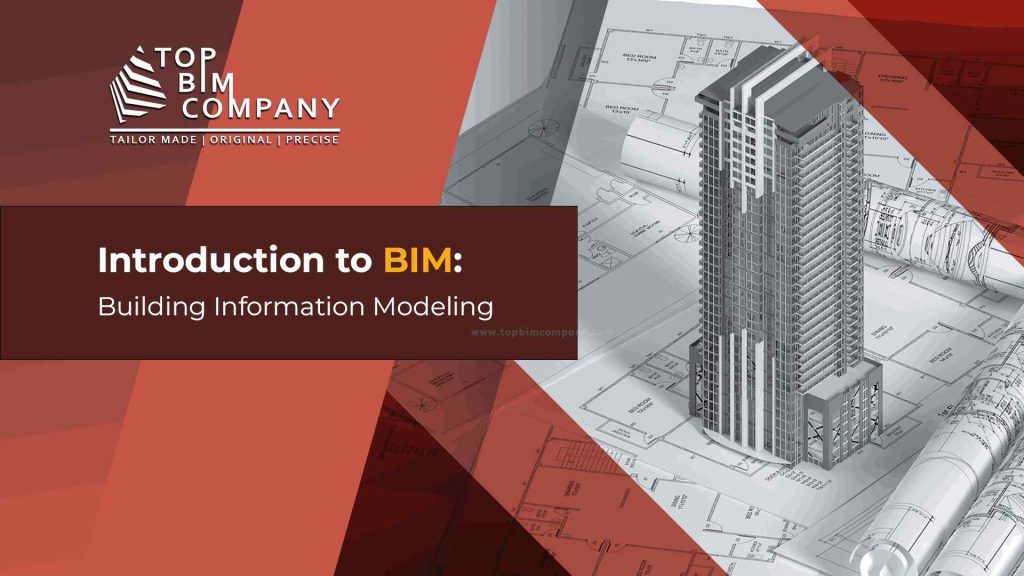 What is Building Information Modeling (BIM)?
Building information modeling or building information management is referred to as BIM. It is the foundation of digital transformation in the architecture, engineering, and construction (AEC) industry. 

A structure or building can be planned, designed, and built within a single 3D model using BIM. The highly collaborative process involves architects, engineers, real estate developers, builders, manufacturers, and other construction project stakeholders. This is the reason that every professional need Building Information Modeling for their effective functioning.
"BIM is an intelligent model-based technique that facilitates accurate design, engineering, and operational information accessible and functional for buildings and infrastructure."- – Bond, PR manager for AEC infrastructure, Autodesk
The process of all stakeholders working together and sharing data during the creation and lifecycle management of built assets is referred to as BIM as a whole. However, the "I" is where BIM's ultimate power resides (information).  
High amounts of data in a model assist the project team stay on the same page at all times, which can be beneficial for the project's conception, construction documentation, and maintenance phases. 
It makes it possible for engineers and architects to collaborate on the same BIM model project from any location in the world. It distils a wealth of knowledge on every aspect into a useful format. Finding the optimal solution to an issue during the design process is made easier by testing and analysis. The entire built environment benefits from better design, simpler team coordination, and simpler structural maintenance. There are many benefits of BIM for the building industry.
The UN predicts that there will be 9.7 billion people on the planet by the year 2050. The worldwide AEC industry must seek out smarter, more effective ways to design and build not only to meet rising global demand but to contribute to the creation of environments that are both smarter and more resilient. Teams involved in design and construction can work more productively thanks to BIM, which also enables them to record the data they generate during the process for use in facility operations and maintenance. This is the reason that more countries need Building Information Modeling. Its Key Benefits include: 
Early clash detection:

Conflicting design features are identified

during the modeling stage, avoiding expensive revisions during construction.

Better scheduling:

Thanks to the more effective sequencing of project components made possible by intelligent modeling.

Automation in the construction industry:

The program can re

adily identify operations that can be automated, freeing up personnel to concentrate on more specialized tasks.

Improved construction workflows:

BIM software generates workflows automatically, and any modifications made during construction update the proce

dure for everyone on site.
The direct access to precise information about each action that employees now have improves their concentration and risk awareness. Further, there are enhancements in structural integrity, environmental design, material usage, energy efficiency, and other areas. Since BIM is used throughout the whole lifecycle of a construction project, the importance of BIM during the entire process should be taken into account. 
4 Stages of the BIM Implementation Process
Throughout every stage of a construction project, from planning and design to construction and operation, building information modeling is used. BIM provides value to the project for all parties involved at each point along the road. Every stage of a construction project benefits from using building information modeling, know more about the 4 Stages of BIM Process to get better understanding.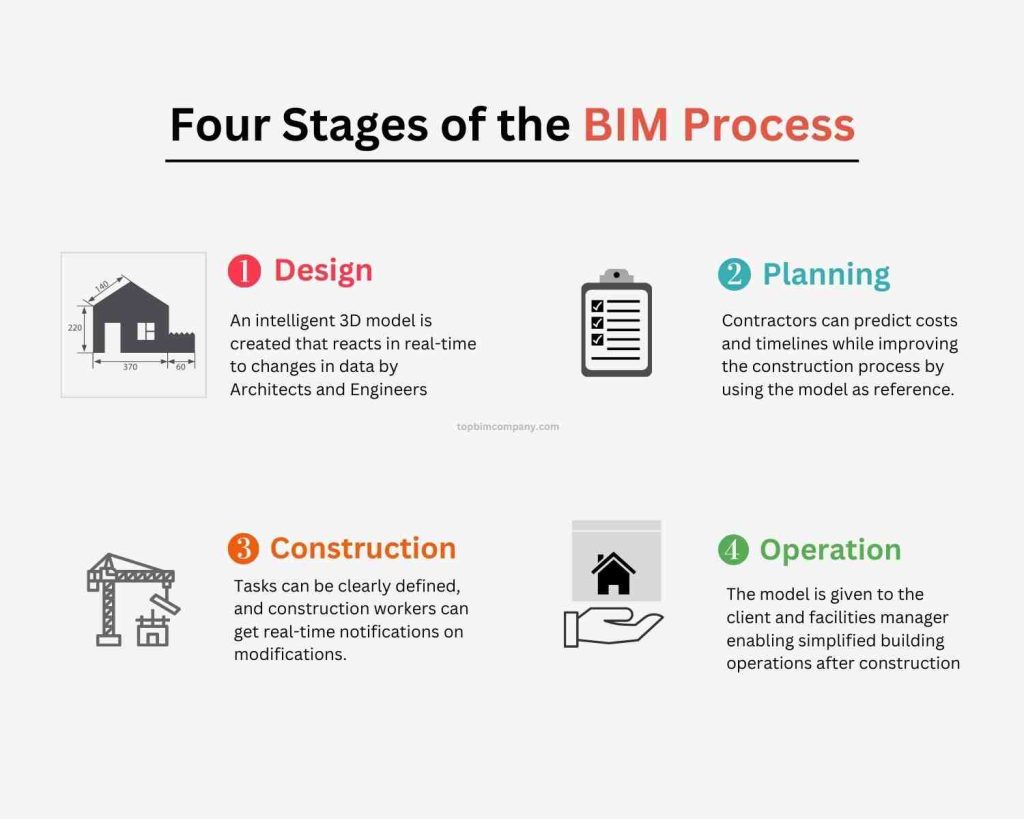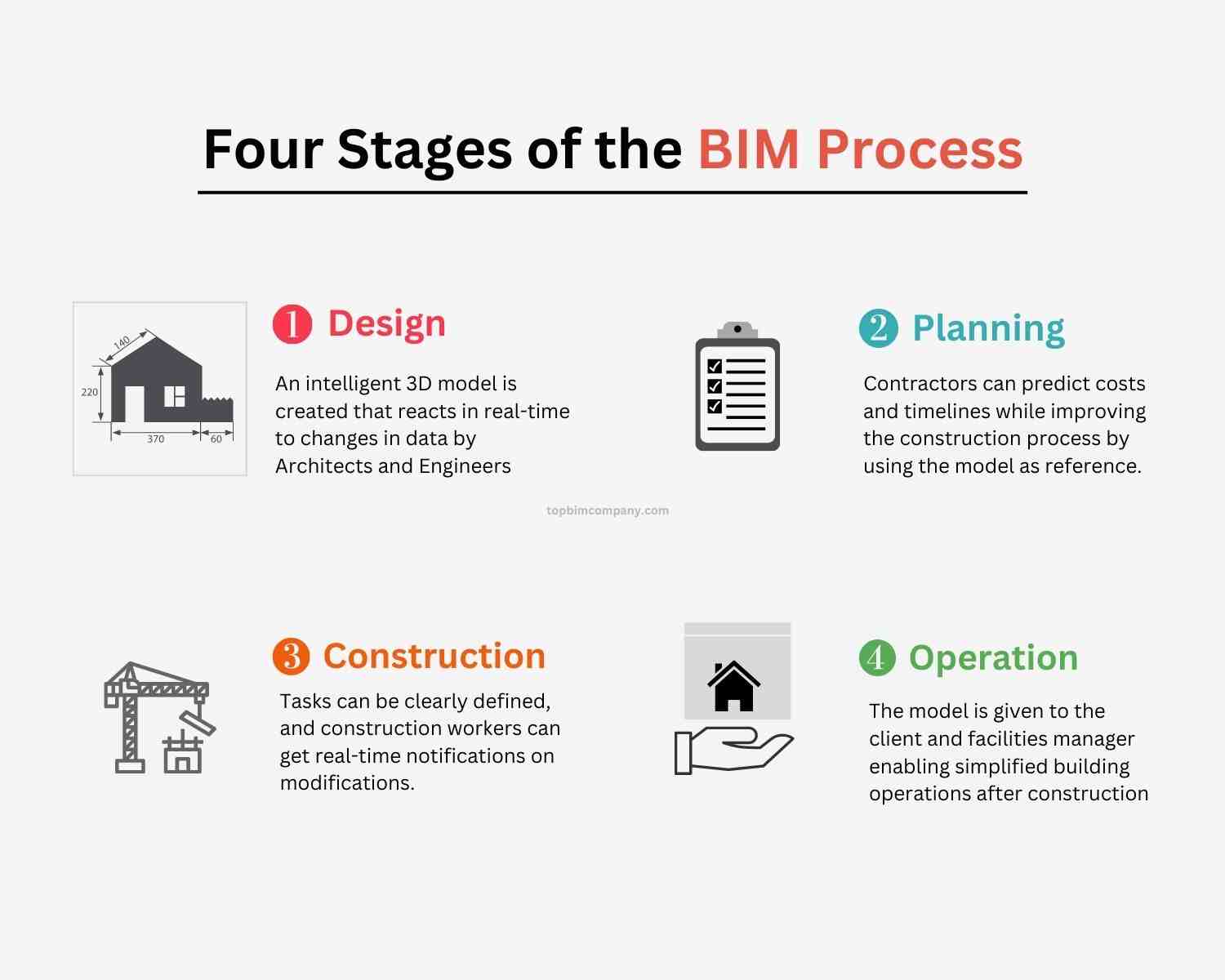 Common Misconceptions about BIM Methodology

Every source, including industry experts, has its definition of BIM, which can lead to a variety of misunderstandings among users. Take a look at a few of these myths to clarify what is BIM. 
Misconception 1: BIM is only used by architects
One misunderstanding about BIM is that it's only for architects. It is one of the most widespread misconceptions about BIM. Similar to CAD, it's simple to believe that BIM is just used for the buildings you see when driving through a city, but it's possible that it was used to create the road you're currently on. Since the construction and architectural sectors were among the first to adopt the method, the myth that BIM is exclusive for architects was born. One might argue that structural engineering was employed for a long time as well. Structural engineers were developing 3D buildings for the examination well before architects started doing so. Everyone can use BIM. In the built environment, it can be applied to a wide range of tasks, such as:  
Architecture and building design 
Civil and structural engineering  
Energy and utilities  
Highway and road engineering  
Landscape and land surveying  
Offshore and marine architecture  
Rail and metro transportation engineering  
Tunneling and subway architecture  
Urban master-planning and smart city design 
Misconception 2: BIM is only a tool for design 
Although its 3D modeling and information management software is the technical backbone of BIM, it is more than just fancy CAD. Although the program is quite similar, it's crucial to distinguish between the two. Many people initially thought of BIM as a new means of delivering a project, therefore they were seeing it as a substitute for CAD products with some additional advantages. That's just the tip of iceberg. When examining BIM, you must consider how we communicate, engage, and use the wide range of tools at our disposal in addition to how we carry out our projects. 
The "I"—the information component—of BIM is its most crucial component. Information is the foundation of Building Information Modeling. Not only does it produce a visually stunning 3D model of your structure, but it adds a ton of metadata layers and renders them in a teamwork environment. By excluding the metadata and collaboration procedures, it is absolutely viable to produce a 3D CAD model using BIM software, but one cannot create a true BIM model without 3D CAD software. 
Software is used to advertise BIM. After all, the user must establish the process; you cannot sell one. One cohesive collection of computer-generated models must be used for the BIM process, and the simplest way to accomplish this is with a single piece of software that everyone can use to access the same project. All of these layers of data for different building systems must be federated or combined into a single "master" model in order to construct a valid BIM model. It is most straightforward to accomplish this by standardizing the software that team members use to compile all pertinent data, which is a fundamental BIM premise. 
Misconception 3: BIM is packaged in a box 
You might have believed you could simply walk into a reseller and get a copy of BIM. Do you think it is simple as pie? The problem with this notion is that, technically speaking, BIM is not a software application. BIM is more than just a design tool; although BIM software can be purchased and used to create drawings, it is not what BIM is in its entirety. Workflow restructuring is a crucial component of Building Information Modeling. You must be willing to alter how you and your team members work if you want to implement it properly. It won't be simple at first to adapt to the new method, but it will be worthwhile in the long term. 
What are the Levels of Development (LOD) in BIM?
For different kinds of projects, various levels of BIM can be accomplished. Each level denotes a unique set of standards that show a specific degree of "maturity." BIM levels range from 0 to 6D BIM, including 3D, 4D, 5D, and 6D. 

These levels serve as a barometer for how well and how much information is managed and disseminated throughout the entire process. Find out from this blog the BIM Level of Development, along with an explanation of the criteria that are applied at each stage.
The Rising Influence of BIM in Construction
The building will become even more digital and collaborative in the future. 4D, 5D, and even 6D BIM will start to participate in the process as the buildings become more complex. Additionally, efforts are being made to cut down on waste in the building industry globally. This is largely the result of supply chain inefficiencies, conflicts, and reworking. All of this can be reduced by collaborating in a BIM environment, paving the way for a brighter future. 
Applications of BIM in Construction
Construction site collaboration: 

By utilizing BIM through mobile and cloud-based software like BIM 360, all parties involved may stay up to date with the BIM model

.

3D laser scanning:

A laser scanner is utiliz

ed in the Scan to BIM process to accurately take a 3D scan of the actual project circumstances. The scan information is

then transferred into a 3D mode

ling system to produce precise as-built models or to provide design information based on actual environme

ntal conditions.

Prefabrication and formwork:

Since

the procedures at the factory and the on-site fields are completed concurrently, prefabrication and formwork methods are employed in the construction sector to shorten the entire project timetable. Acco

rding to earlier research, formwork and prefabrication techniques increased building quality while lowering costs.

 

Digital fabrication:

The systematic management of all activities involved

in creating a structure

is

built using digital tools, including g

eneration, design, material processing, and construction.

Facility management:

BIM enables FMs to make well-informed decisions on the use of space, floor design, upkeep of equipment and assets, energy use, and cost savings across the facility's entire li

fecycle.
Building Information Modeling (BIM) is directly impacting building designs, functionalities, and construction methods. So, it is important to be aware of the applications of BIM in the AEC Industry. 
BIM Market share & Usage in the USA
BIM has a significant impact on the AEC sector in the USA. According to the American Institute of Architects (AIA) 2020 Firm Survey Report, the methodology is now used by all large-sized architecture companies and over 33% of smaller firms. This increase in utilization is related to the need to complete increasingly complicated projects on schedule and within budget. In addition to all of this, more US States are coming under increasing legal pressure to use Building Information Modeling on publicly funded projects. This number is only anticipated to increase, as the world gains more knowledge about using computers for digital design. The fact that the technique is not required in the United States on a federal level is a crucial distinction to be made. Public-sector projects are not now required to employ the technology, which contrasts sharply with nations like the UK and Singapore that have rigorous, all-encompassing regulations on its use.
Most used BIM Softwares or Tools
Autodesk: Popular BIM software systems like Revit & AutoCAD Civil 3D are produced by Autodesk. 
GRAPHISOFT: One of the first BIM software platforms to enter the market was called ArchiCAD, and it is produced by GRAPHISOFT. 
Bentley Systems: AECOsim Building Designer and ProjectWise are two examples of modeling and project management software produced by Bentley Systems.
Design and build with BIM Building Information Modeling
Without BIM, it would not have been able to construct the extraordinary buildings that we see around us today. The technique has encouraged innovation in the construction industry, resulting in high-quality, low-cost buildings with amazing designs. Construction workers still use heavy machinery to carry out the labor-intensive work of building despite these significant improvements in construction methods. We anticipate that adopting robust software helps to increase the capability of the people who eventually want to advance in this sector. To discuss BIM modeling, schedule your free consultation.