Converting Physical Buildings into 3D Models with Scan to BIM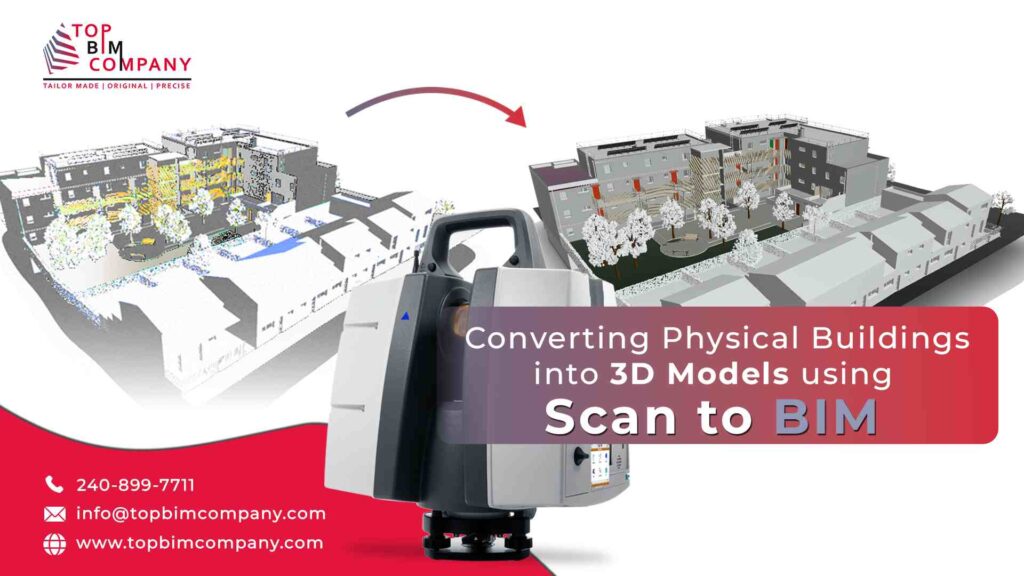 LiDAR scanning is expanding, and BIM companies have amassed an extensive workforce of BIM Modelers. BIM service providers have extensive training in building design, and the BIM team can transform scans and outdated blueprints into Revit models, enabling accurate detailing of every member of the family and component.
Compared to the traditional method of doing site surveys with your in-house design team, scan to BIM saves time and money. BIM Engineers collaborate with the best laser scanning businesses to create your model quickly and precisely for refurbishment projects. 
Scan to BIM is the process by which a real-world object is scanned and turned into a 3D model. Architects and engineers utilize this model to better comprehend the object and produce precise drawings and blueprints. A laser scanner is used in the Scan to BIM method to accurately collect and model a 3D scan of the real-world conditions on your project.
The scan is loaded into a 3D modeling program so that it may either be used to produce an accurate as-built model or to inform the architectural team about the design under precise conditions. 
Three crucial steps in 3D Laser scanning procedure
Contractors utilize 3D laser scanning for buildings as a crucial tool since it enables them to produce precise models of existing structures. This is particularly crucial when it comes to historic structures because thorough documentation is crucial.
Using a 3D laser scanner to get the data

 

Returning the data to the design studio

Applying it to the BIM procedure
As-built drawings, which can be utilized for a number of things including construction planning and quality control, can also be produced using 3D laser scanning. BIM companies supplement existing staff with skilled individuals who can correctly operate, set up, and execute the scan to BIM process. 
3D scanning helps BIM engineers to quickly and accurately gather data on the spot. A tripod-mounted 3D laser scanner with an eye-safe laser and rapid rotation is used. When the laser beam strikes a solid surface, a coordinate or point is created to represent the position in relation to the scanner. These points are logged in millions in order to produce an accurate image.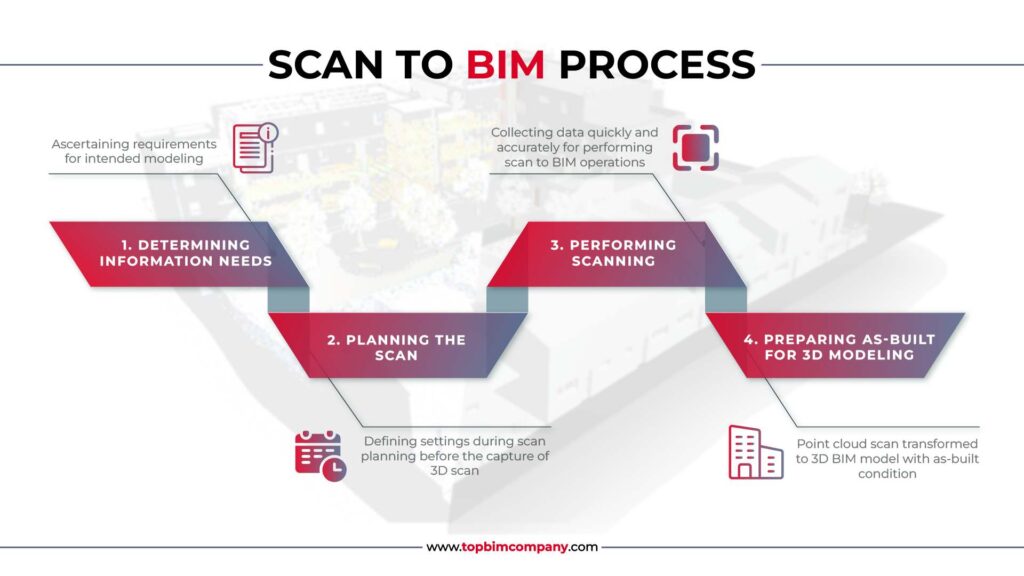 The complete process may be broken down into four stages: 
1. Determination of information needs
It's crucial to ascertain all the requirements for the intended model/drawings before we start the scan to BIM procedure. The detail in the model should be determined as increased modeling precision enhanced the as-built model BIM's steadiness for the proposed appliance. Yet, the cost increases with the level of detail. Hence, a trade-off between price and data density must be negotiated. 
Prior to the capture of a 3D scan, settings are defined during scan planning. It is vital as it is tricky to place building design documentation that has been accomplished. Hence, optimizing the scanning parameters may be useful. It also determines all properties essential for scanning. The parameter includes coverage in accurate space resolution and other characteristics, such as place, angular resolution, etc.
A 3D laser scanner, which gathers data quickly and accurately, is used to perform scan to BIM operations. The apparatus has a fast-rotating, eye-safe laser. When a solid item is detected by the laser beam, its location is immediately recorded as "points," or coordinates, and the device is frequently mounted on a tripod. A very accurate digital representation is produced by grouping these points together during mapping. The scanner will colorize all the points after they have been gathered to create a point cloud scan, or 3D depiction of the area from various angles.
The external and interior structure, as well as any hidden mechanical, electrical, plumbing, and fire protection equipment, can be captured using a 3D laser scanner. The scanned data is then converted into a 3D model using the Revit software.
The scanning procedure can also be carried out in a variety of ways, including:
Scans in 360 degrees:
Time-of-Flight: Every position's horizontal and vertical angles are measured, requiring the scanner head to occupy every grid position during a scan.
Phase-based Scans: The sole distinction is that the distance is determined by measuring the phase change of the reflected laser energy.
4. Preparing As-Built for the New-Build 3D Modeling
The collected Point Cloud Scan to BIM data is transformed into a 3D BIM model with the as-built condition of the existing building in the second and last stage of the Scan to BIM process.
Interpreting the Point Cloud Data: At this stage, scanning software like Autodesk's Recap is used to analyze the point cloud scan of the building systems. The physical and functional details of each building system are extracted by BIM modelers. The point cloud scan's numerous viewing points give the structure holistic visibility and guarantee the representation's accuracy.
Using a 3D modeling technique: Through 3D modeling, the as-built circumstances of the structure are depicted in the scan. This information is then used for a variety of reasons, such as remodeling, redesigning, and renovating any element of the building. You can have your desired as-built model complete with the necessary building system data, after this last stage of Scan to BIM.
The accuracy of the Bill of Material created with Scan to BIM data reduces the likelihood of building budget overruns.  To create an as-built model for facility management, maintenance, and operations, BIM models from laser-scanned data are used. Implement scan to BIM in your project workflow and get improved accuracy and smarter judgement.