5D BIM Construction for Efficient Planning & Management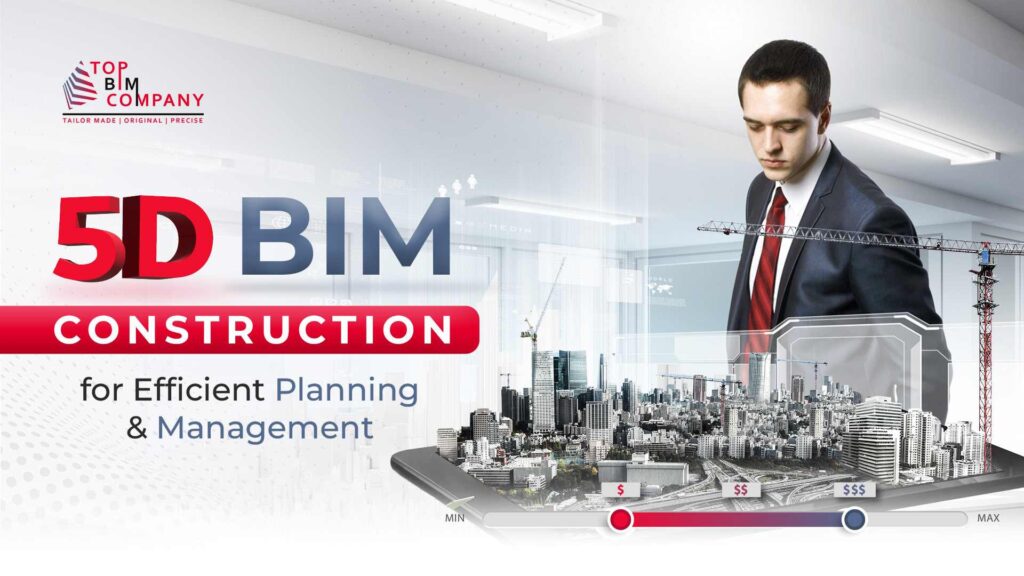 5D BIM in construction refers to the process of utilizing digital models and simulations to effectively plan and manage all aspects of a construction project in an integrated manner.   
By incorporating 3D visualization with time-based information (4D) and cost estimation (5D), stakeholders anticipate potential delays, budget overruns, or design flaws before they occur.  
This ultimately leads to efficient project completion with fewer errors and greater overall ROI. As per Globenewswire  the 5D building information modeling market is anticipated to surpass USD 4422.24 million at a CAGR of 33.5% from 2023 to 2030. 
5D BIM is an extension of the traditional three-dimensional building model that incorporates time and cost data. The model allows for real-time tracking and analysis of costs, enabling proactive decision-making, improving risk management, and enhancing overall project efficiency. 
With 5D BIM, stakeholders have a comprehensive view of their projects from design to completion in terms of cost, resources, materials, planning, and optimizing schedules such as timelines as per budget constraints.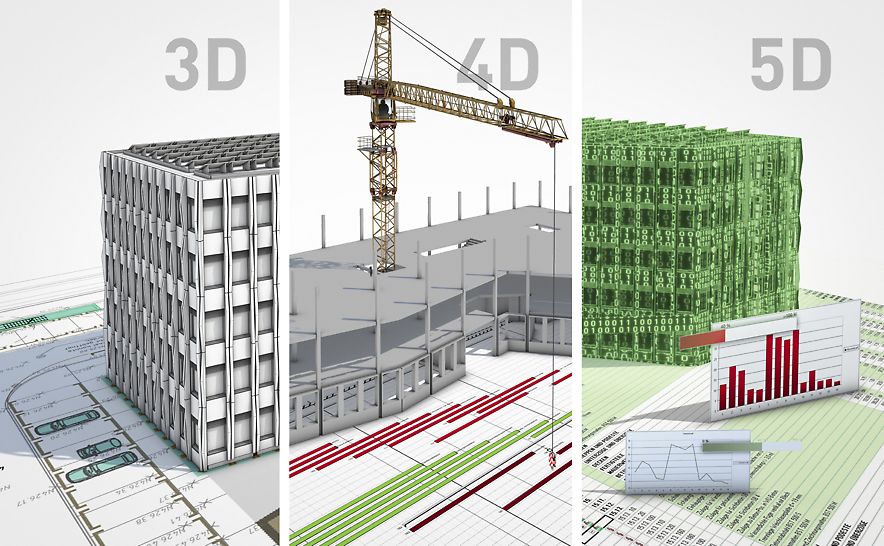 Role of 5D BIM in Construction Projects:
5D BIM in Construction Projects is crucial for efficient workflow in complex processes resulting from shorter supply chain.  
Moreover, the ability to forecast challenges before occurrence helps to deliver sustainable buildings faster and with less waste. 5D BIM has revolutionized the construction industry by enabling better communication amongst team members, reducing waste in terms of material usage and labor hours spent on rework.  
This also facilitates real-time collaboration with suppliers and contractors alike. Employing the technology leads to higher productivity and quality improvement. 
Understanding the different Dimensions of BIM:
Building Information Modeling is a powerful tool used by architects, engineers, contractors, and owners to manage the construction process from design to completion. The various dimensions of BIM can be thought of as layers or levels of information that are associated with different stages of the construction process. 
1D, 2D, 3D, 4D, 5D, 6D, 7D, 8D, 9D and 10D Explained: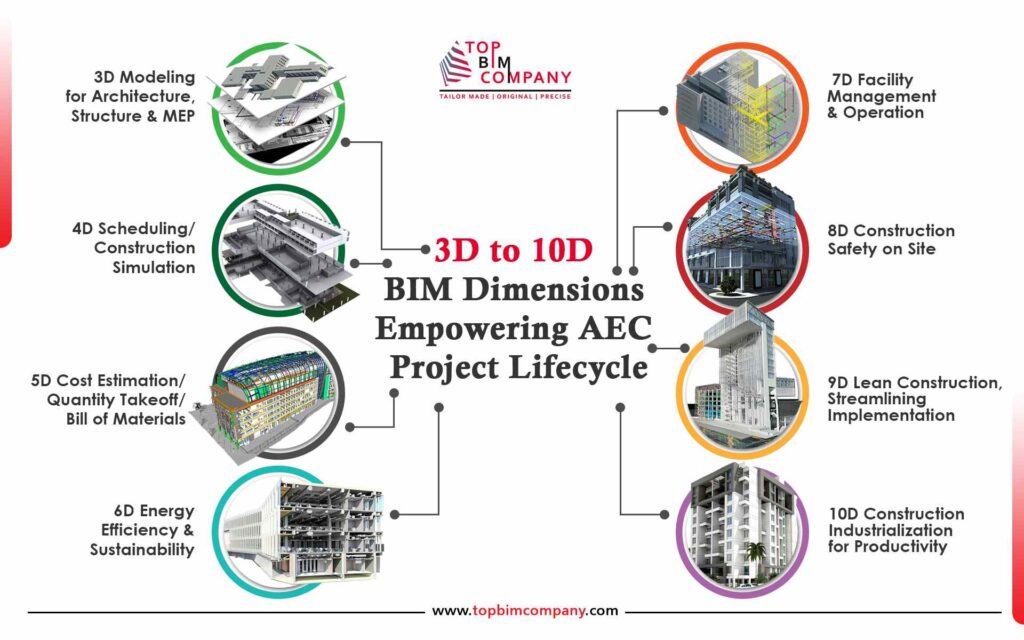 1D:

Refers to basic data such as height or width.

 

2D:

It adds depth through 2-dimensional plans.

 

3D:

It is where BIM really begins to shine as it allows for virtual visualizations of complex construction projects. 

 

4D:

Time management capability, enabling stakeholders to see how time affects their project schedule in real-time. 

 

5D:

Costs can be accounted for within the model.

 
 6D:

Sustainability factors are incorporated into the decision-making process.

 

7D:

This dimension includes additional data like facility management.

 

 8D:

8D focuses on safety management during design and construction.

 

9D:

Popularly called lean construction optimizes, it streamlines steps, making life-cycle analysis.

 

10D:

Utilizes industrialized construction & integrates disaster management plans.

 
Understanding these dimensions is critical for developing an effective BIM strategy that meets your project needs throughout every stage of construction. 
How is cost information integrated into the BIM model?
Cost information is a critical component to successfully execute construction projects. As such, Building Information Modeling tools have been developed to integrate cost estimation and control into the model at every stage of the project.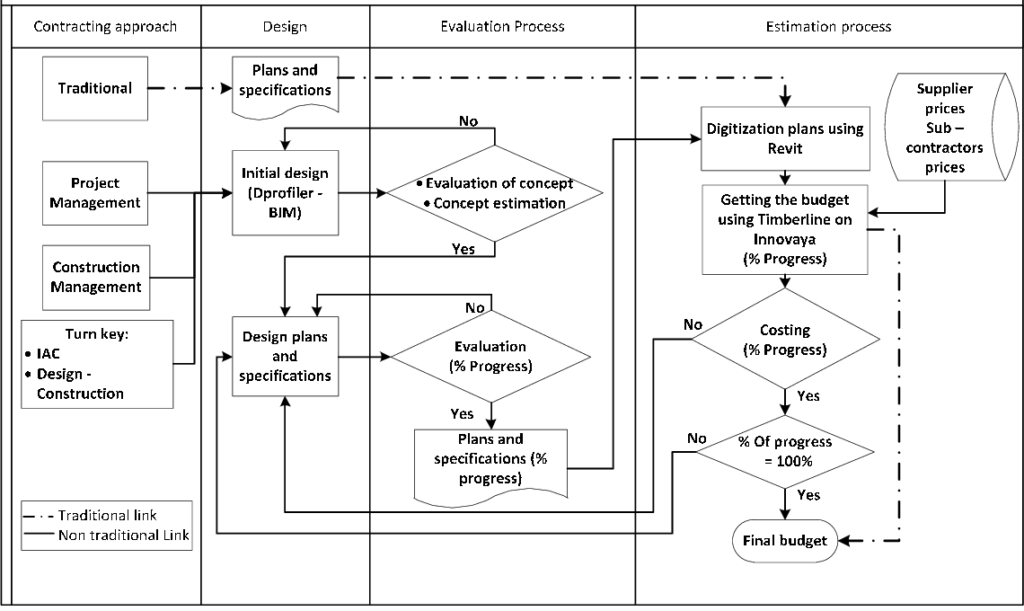 Assign Cost Value

: BIM models allow contractors and owners to assign cost values to each building element, material, labor cost, equipment rental, etc. This process enables them to track each item's price in real-time and monitor project performance against budget targets. 

 
Use specific software:

Cost information can be added using specific software incorporating key attributes such as material type or function, quality standard specifications amongst others. 

 

Ensure Accurate Cost Estimate:

Integrating costs into the 3D models ensures that any design changes will reflect accurate cost estimates instantly. This improves decision-making accuracy, by constantly updating budgets.
Benefits of 5D BIM Cost Estimation and Budgeting
The use of BIM in tracking project costs helps prevent unexpected increases in expense due to oversights or mistakes during the planning phase.  5D technology helps to deliver more sustainable and well-developed construction projects within reasonable budgets on time.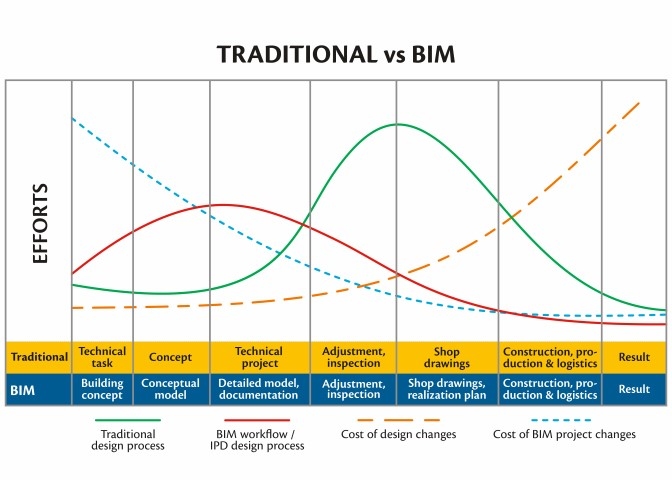 BIM Model Management:

Use popular modeling software to import architectural BIM models, structure models, and

MEP BIM models

for improved model quality, cross-platform model integration, and collision detection. 
Quantity Take-off:

The Construction System's established takeoff rules make it simple for quantity surveyors to generate automated quantities from 3D models. To aid in decision-making, the computation can be performed at the object level, displayed in BIM models, and exported in reports with varying levels of detail.

 
Accurate Estimation:

 Realize dynamic cost management because real expenses and cost projections are constantly connected. As estimates are integrated with models, BOQ, scheduling, and procurement to communicate data in real time, improves team collaboration.

 
Tender & Bid Management:

To select the best bidder, send out a tender invitation, request bids from vendors using online portals, compare quotes automatically, and assess vendor performance.

By streamlining the bidding process, the bid win rate can be increased. The most recent information from the estimate and BOQ modules can be used to quickly build bids.

 
Project Management:

Enhance project delivery by using Project Management to efficiently manage project progress. With a smart phone app on location, you can quickly and clearly record daily activity and installation quantities. Drag and drop to upload records in multiple formats on the website. To synchronize deadlines and discipline, compare actual progress to the timetable using the Gantt chart and project progress visualization.

 
Facility Management:

Add 5D BIM to the crucial discipline of

building facilities management

. All data from the planning and construction phases may be moved immediately to the operation phase. With iTWO fm, you can map all facility management procedures in an approved manner, including upkeep, cleaning, key management, smart maintenance, internet of things, and operator accountability.

 
Lifecycle Management:

It is a challenging undertaking to work with a building throughout all stages of its software life cycle. The many phases of 5D BIM make it simple to organize and obtain the pertinent data. All necessary fundamental information can be rapidly and readily moved from the planning phase to the CAFM for the operating phase. Data from CAFM is shared cooperatively with all other areas, enabling consistent use.

 
Challenges of 5D BIM and Tactics for Overcoming them:
The adoption of 5D BIM in the construction industry has been limited by several challenges. 
Common obstacles in 5D BIM Implementation: 
Lack of skilled personnel:

One major obstacle is the lack of skilled personnel who can operate BIM software as it requires a high proficiency and technical knowledge. 

 

Cost of implementing technology:

Another challenge is the cost of implementing this technology, from training employees to acquiring essential hardware and software tools. 

 

Complexities in collaboration

: Additionally, integrating various stakeholders' inputs into the model creates complexities that require collaboration to avoid errors and rework. 

 
Strategies for overcoming the challenges: 
Investing in employee training and development

 

Developing user-friendly BIM software

 

Using virtual reality (VR), lean construction practices, prefabrication

 
These strategies significantly streamline operations, reduce costs, mitigate risks while improving productivity across every stage of the project lifecycle. 
Real-World Applications of 5D BIM in construction projects:
Real-world applications of BIM in construction have been successful in enhancing project delivery timelines, cost estimation, and resource allocation.  
Wembley Stadium in London

: Examples include the

Wembley Stadium in London

where Level 2 BIM was used to integrate design, cost, scheduling and asset management information throughout the lifecycle of the project. 

 

Shard tower project in London

: Additionally,

Shard tower project in London

applied 5D BIM to manage complex structural steelwork coordination and clash detection between contractors with different trades. This approach allowed for better communication and collaboration between parties leading to improved time management that resulted in saving costs within the project's budgetary constraints.

 

Victoria Square development in Belfast:

Further, another example is The Victoria Square development in Belfast which utilized 6D BIM for analyzing potential environmental impacts throughout its operation phase. This includes energy consumption simulation tools that predict long-term energy savings benefiting both the client and end-users. 

 
These real-world examples demonstrate how implementing 5D BIM can offer significant benefits through all stages of construction projects by supporting quality control processes that identify & mitigate potential construction issues before they cause damage or incur additional costs.
Practices for Implementing 5D BIM in Construction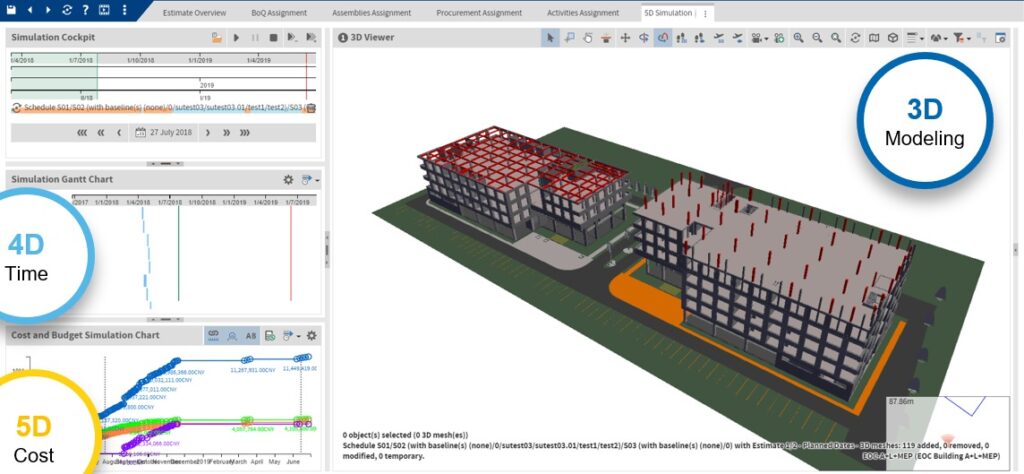 The implementation in construction is a complex process that requires careful planning and execution. To effectively implement this technology, there are several best practices that should be observed.  
Steps to effectively implement 5D BIM AEC projects: 
Adequate training:

Firstly, adequate training for all stakeholders involved in the project should be undertaken to enhance their understanding.

 

Detailed Planning:

Secondly, detailed planning at the outset of the project will help identify clear goals and minimize time wastage. 

 

Effective Collaboration:

Additionally, effective collaboration among team members is critical for ensuring smooth execution of the model throughout the entire construction process. Real-time updates on any changes or variations, as well as feedback from key stakeholders during various phases of development, must also be put in place. 

 

Constant Evaluation:

Lastly, a continuous evaluation process should be implemented to assess the effectiveness of 5D implementation. This provides insights into areas that require improvement and recommend best practices for future projects. Through adherence to these essential steps, organizations can derive maximum value from implementing 5D BIM in construction projects while optimizing efficiencies and minimizing costs.

 
Future Trends and Innovations in 5D BIM
As the construction industry advances towards a more digital future, 5D BIM offers significant potential for streamlining project management and improving building performance.  
With the aid of cloud technology, 5D BIM advances into bringing a completely new element to efficiency. All parties participating in the project will have access to it if it is built in a cloud-based environment. 

 

In the coming years, one of the most prominent trends will be its integration with emerging technologies such as augmented and virtual reality. By combining these technologies, 5D BIM models can become immersive visualizations that allow users to better understand and interact with a building's design and function. 

 
Additionally, machine-learning algorithms will enable improved cost forecasting and predictive analytics, giving stakeholders greater confidence in project timelines and budgets. 

 

As data-driven decision-making continues to evolve across industries, the ability to leverage multiple sources of information within a single platform will become increasingly valuable. This enhances collaboration between project teams while predicting potential issues earlier in a building's lifecycle.

 
Know More: Innovative BIM Modeling Trends Shaping AEC Industry 
Final Thought: 5D BIM in Construction Project Management:
Adopting 5D BIM technology has become increasingly important in today's competitive construction industry where budget overruns and schedule delays negatively impact project outcomes.  
As opposed to traditional 2D or 3D models, the inclusion of cost and schedule information in the software makes it an invaluable tool for managing complex projects. 
By integrating data from different stakeholders throughout the lifecycle of a project, project teams anticipate problems before they occur and make informed decisions that positively impact time, cost and quality outcomes.   
It is no doubt that 5D BIM will continue to revolutionize construction project management. 

Extract quantities for costing and managerial management.
To know more about how we can help you improving your project cost efficacy